California 204 DSG 4Motion MY17
VCDS User
Admin
Moderator
VIP Member
This guide takes you step by step through fitting @travelvolts DC-DC charging kit for leisure batteries.
Why fit this kit:
VW are still installing their standard split charge relay on vehicles fitted with leisure batteries, however, the latest Bluemotion technology has a few undesirable side effects with leisure battery systems.
In order to leave headroom in the starter battery for the surge in regenerative braking the alternator will stop charging when the starter battery reaches about 80% also to improve economy the alternator will at times just idle and not perform any charging.
This can cause current to flow back from the leisure batteries to the starter battery as seen here on the california control panel.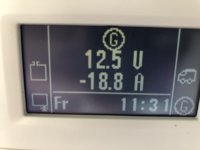 Step 1, Disconnect rear second battery:
These instructions refer to the twin leisure batteries in the California you may not have the second battery.
First open the panel at the bottom the rear wardrobe to reveal the second battery if fitted.
Unbolt the retaining clamp (13mm socket).
Use a large flat screwdriver or trim tool to lever up the battery to get it over the edge of the opening
Now slide out onto the boot floor.
Disconnect the negative terminal (10mm Socket)
Continue to Step 2.