Senior Member
VIP Member
T6 Guru
I was making progress along the M27 yesterday, when a fella in a Transit stated flashing and waving at me. I naturally assumed it was just van envy, but he drew alongside and said my rear spoiler was flapping loose and I should stop straight away !
I pulled off at J2, and found the thing was hanging on by about 5 inches of the glue. A light tug, and it came off in my hand ! I can't imagine the consequences if it had flown off at motorway speeds.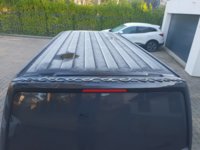 As photos above it was just bonded on, and the paint to which the glue was bonded has come off the spoiler itself. Whoever did it used plenty of glue, but the paint finish isn't particularly good, and it can't have been done with the correct primer or plasticiser.
There's bonded in threaded inserts in the spoiler, but the lazy twunts who fitted it in the first place didn't bother to use them.
I recendly saw
@toonaroon
's thread on his new spoiler fitting, and admired his blue-tak trick. I didn't know I'd be using it so soon.
Whilst I can probably get an answer from Google, can anyone recommend an adhesive to re-bond the thing on with ? I'm going to drill holes and fit some M6 studs too, is there a putty or sealer to use around the holes too ?
Last edited: