204 T32 DSG LWB SPORTLINE PV MY18
VCDS User
Moderator
VIP Member
T6 Legend
Carista - How I Done It -

Part-1


Modern cars and vans are now technologically very advanced, gone are the old days of "points and condenser" or distributer caps, spark plug leads and the like.

The Dark-Art of vehicle diagnostics was always something the main dealers wanted to keep very secret . . . . . and for a while they got their own way.

In later years this was to all change with the standardisation and formation of OBD and OBDII protocols which all the main manufactures had to abide by. The main reason for this was so that 3rd party repair shops would be able to work on your motor and chip away at the monopolisation that the big manufacture's had at the time.

The olden days saw a wash of various OBDII plug-in tools that aftermarket garages could purchase which would enable them to start gaining access to the mysteries that were auto-diagnostics….


Company's like Launch, Snapon, Autel, Bosh etc etc jumped on the bandwagon and started producing their own OBDII tools, the more cash you spent on the tool meant the more advance diagnostics you could get out of the ECU`s in the car. . . . .

Moving right into the current era we now have the internet, smartphones, tablets, youtube and Wikipedia. . . . . This is where Carista comes into play.

The Cleaver guys at Carista developed a cheap Bluetooth OBDII adapter that could be plugged into your motor and paired up with an APP on your smart device and enable you to view fault codes . . . . . Nothing new right? . . . . been done before right? . . . . . well the Carista guys took it one step further.

With the APP installed and subscribed too they can offer advanced diagnostics and more interesting is the coding and adaptions that can be done. Because the system works over the internet Carista HQ can continually update and upgrade the available option and adaptions on an on going basis.

lets have a look at what you get.







.

The front page gives you this to work with:


Need to diagnose a warning light? Want to activate hidden features and get rid of annoying beeps? Want to have dealer tools in your glovebox? Carista gives you all of that for a fraction of the cost of a single dealer visit.

Carista supports a wide range of models by Volkswagen, Audi, BMW, Lexus, Mini, Scion, Toyota, SEAT and Skoda. Get the Carista OBD2 adapter and you will receive:

· Free 1-month trial of paid app features

· Compatibility with a multitude of partner apps

· Support for both Android and iOS

1. Advanced features are only supported on certain models by Volkswagen, Audi, BMW, Lexus, Mini, Scion, Toyota, SEAT and Skoda. Please make sure your car is supported before purchasing the adapter.

2. Purchasing the Carista OBD2 adapter gives you a 1-month free trial of all paid functionality in the Carista app. To continue using these features after the trial expires you must purchase a subscription.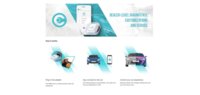 This is what you get we you buy Carista. . . . . . it doesn't look much, but what your paying for is the power of the APP and back-end.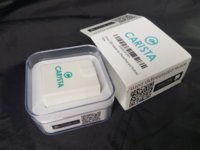 .

The unit plugs into the OBDII port on the van, that the Purple socket under the drivers side dash panel . . . . . you may never have even noticed it before.





.

Once plugged in it powers up and your ready to go. . . . .




.

Next thing is to download the APP from the play store or apple store. It's a small app and installs in seconds. You need to pair your new carista to your phone in the same way you do with any other Bluetooth device.

Once connected you have this . . . . .





.

Simples right . . . . . . . . . Now the diagnose bit is FREE for life. . . . . just click that (make sure the ignition is on, but engine not running)


The results come back for mine with 3 faults – simply make a note of them. When you click each fault code it will do an internet search for the code so you can see what its all about.

in my case:
ABS was the front left wheel puncture.

IMOBILISER was the Ghost (tried starting without putting code in).
Battery Regulator – left the Carista plugged in overnight.





.

I clicked "reset all" which it did . . . . . the next scan showed 0 faults. . . . . job done.



Next on the list is Customize . . . . . this is the most awesome bit of Carista (and as such you need to pay and subscribe for a year or just pay a one off for each customization)

Once its scanned your motor it feeds you back the various systems that you can interact with . . .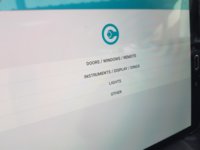 .

continued on page-2 below
.

More info over here > Dellmassive`s -- "how I Done It" -- Thread

.




Last edited: