Senior Member
VIP Member
T6 Pro
Finally got to accept my T6 Transporter TDI400 LWB 132kW 4Motion.
It arrived after ordering it in December last year and the build spec was as follows.
Deep Ocean Paint / Titanium Black Trim Rough Road Suspension
Rear Differential Lock
Sliding Window (Centre Left)
Sliding Window (Centre Right)
RVC Incl Rear Sensors
2nd Battery
RHS Sliding Door
Driver Assist Package
Discover Media Sat Nav w/App
Interior Comfort Pack-Single Appearance Package
17" Alloys - Devonport
Rubber Floor In Cargo Area
Rubber Mats Front
Front Swivel Seats
Solid Windows Rear
VW Tow Bar
Front Leather with Heated seat
So now starts the transformation to a camper. Some will probably ask why not just buy a Californian or the like but there are none being delivered to Oz so its build your own.
First thing to do was start the process of adding sound deadener which I have done to the wheel arches and behind panels on the rear walls. That was this weekends job.
Next week it goes to a classic VW restoration shop to have a RCA pop top fitted.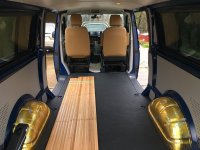 More photos at:
http://www.t6forum.com/media/albums/t6-camper-in-oz.8/
Last edited: