150 DSG Shuttle Conversion
VIP Member
T6 Legend
Generally, I run dedicated summer and winter tyres. However, these Nokians came with a set of wheels I purchased. Being an all season tyre, I ran them all summer. With just under 5mm tread left, I'd planned on changing them in the spring when I'll fit summer tyres. Out of the four different tyres I've run in the van, these have been the loudest. Even Mrs Donkey noticed and asked what the noise was. In fairness though, I'm not sure if its the tyre/wheel combination that's resonating, so I should reserve judgement until I put summer tyres on the same wheels. They've been good in heavy rain and standing water with no aquaplaning at all. They were also good on wet grass on the campsite, albeit being wider (235/55r18) than standard (215/60 r17) tyres, they spread the weight a bit more.
However, the wear seems odd and they appear to be ageing prematurely.
Looking at the shoulder wear, it looks like classic under inflation or overloading. However the tyres are load rated at 104, so within spec for a T32. I also started at 47 psi and ramped them up to the manufactures maximum pressure of 51 psi. So definitely not under inflated. Wondering if the akerman geometry with the slightly wider track is the cause of the shoulder wear. I should add the rear tyres have a more even wear across the tread.
However, looking at the shoulders and side walls, the rubber is perishing. Something to be expected if these were 10 year old tyres. Not so much on 3 year old tyres, as these are. Also the tread is not just wearing, but there's a fair bit of shredding on the outer edges too. Hopefully visible on the photos. There's a YT clip with a chap with these fitted on a Volvo and he seems to be having a similar issue.
Again to be fair, the perishing looks superficial. Certainly not exposing chord or ply, but still concerning non the less. Maybe something to keep an eye on if you run these tyres with low annual mileage over long periods of time.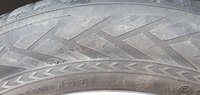 Last edited: