204 T32 DSG LWB SPORTLINE PV MY18
VCDS User
Moderator
VIP Member
T6 Legend
Here we go today's task is:
To install a 12v socket from the AUX battery behind the dash and connect a 5x port Anker 50W/10A USB charger.
The plan is to run 2x USB extension leads up to the top center of the rear view mirror, Plus a 12v feed for future upgrades like radar detectors and dash cams etc.
Also to run 2x USB feeds for phone and Gadget charging to be bought out the front dash where needed.
This is phase#1 which is permanent 12v power fed from the AUX battery, Phase#2 will be ignition switched 12 and USB for things that need to be switched off when the van is not running. (ie 4G WIFI stick etc)
First thing was to test the existing 12v socket on top middle of the dash. it was fed from the AUX battery under the bench and had a 15A fuse.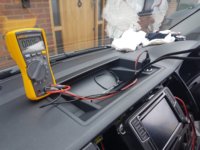 next thing to do was have a little strip down: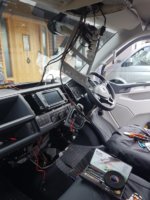 now the trim was all apart, next step was to get a "12v socket extension lead" and cut it down, The feed cables were cut down and soldered and joined to the existing dash top 12v socket...
i run the socket part of the extension lead over the satnav and down to the left lower fuse box area, loads of room down there for fitting kit and stuff,
plugging in the Anker 5way USB power supply and grabbed some 5mtr USB extension cables..... 2 of the i run up the left A piller with a spare 12v 2 core cable for later date . . . . .
Up the A piller and and over the roof lining to the top center section......
top trim and A piller back together and we end up with this...... All reader for GPS/Radar/Dash cams etc (2x USB power feeds and a spare 12v just in case)
The next bit was for the dash center feeds, thius time i run just a couple of standars USB-mini leads from the power supply to a switch blank (just below where i use a magnet holder for my phone) ( and by the center pocket where i put my BT bearpeice etc)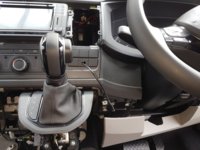 Seems like i can only upload 8x pics . . . . . .
so the others were just showing the lower center dash USB port and all the bits back together.....
Next step will be phase#2 which will be the ignition switched 12v and USB power supply.........
12v Igntn Feed + 5xusb Charging From Ign Feed - Today's Install
*****************************
*******************************
.
Last edited: