204 T32 DSG LWB SPORTLINE PV MY18
VCDS User
Moderator
VIP Member
T6 Legend
So here is Phase#2
A 12v Ignition feed for gadgets and also a 12v socket behing the dash with a 5xUSB power outlet.
The Dash and trim were already apart from phase#1 so we continue from there....
We got a 12v socket extension cable again (15A max, 3mtrs long) and cut it down to size.
we added a fuse buddy to the 15amp fuse (middle row, second fuse down).... and down rated our new supply fuse to 5amps as it will only be powering the USB charger fore now.
**********************************
always check the fuse port/slot with a meter to test which side is the +12v feed with the fuse out. (the blades in the fuse socket - one side will be powered=input and one side will be dead=fuse output to cirecuit.
Then place the fuse tap in with the wire output on the opposite site . . . .
if the fuse tap is installed the wrong-way around the output wire WILL NOT BE FUSED AT ALL AND CAN BE A SERIOUS RISK !!!
the easy way to test is just to remove the fuse and make sure your new circuit goes dead . . . . ie dash-cam etc.
if the device stays live, then remove the fuse-tap and insert the opposite way round.
ALLAYS CHECK TO BE 100% SURE AND SAFE
*********************************
The ground connection was a red crimp ring connector on one of the fuse box mounting screws.
this now give us a ignition switched 12v socket down under the dash..
Next we plug in a second Anker USB 5way 10amp charger to the new 12v socket outlet. (the black one is ignition switched.... the white one is AUX battery fed)
now we just plugged in USB cables to where we needed them.... the main one was a feed into the glovebox for the 4G/WIFI USB stick for the satnav and mediacenter.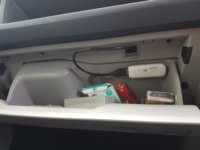 and another one down here for charging Bluetooth headsets or stuff......
This one below is fed from the other USB power supply (24hrs constant) as this is where my phone sits most of the time....
The 12v ignition feed can be taken from the same fuse buddy or just fit another one, for now we dont need the extra 12v feed so we left it unconnected...........
I hope that helps anyone out that needs USB power or AUX power for camping setups and just general power thats not switched off by the BCM after time-outs or just a simple ignition switched USB power, which for me was a cheaper option that going for the retro-fit 2x OEM usb module for connecting up the wifi/4G dongle.
********************************************
********************************************
View attachment 59175
Last edited: