T30 102bhp converted to camper
VIP Member
T6 Legend
Ok, I have done some experimenting with a 12v immersion heater element.
I bought a 100W 12 volt heater element on eBay for £26.
I mounted this in the side of a 13 litre plastic water container from Kiravans, and put about 12 litres of water in it.
I then crudely wrapped this in bubble wrap - sides and bottom.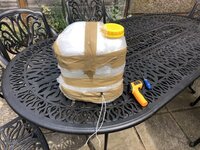 I used a 12volt power supply to power it - about 8 Amps is needed.
I measured the temperature of the water over the next few hours. There seemed to be a fair temperature gradient top to bottom of the container. The ambient temperature started at 17°c and finished at 23°c.
Start - 22°c
1 hr - top 31°c - bottom 22°c
2 hrs - top 38°c - bottom 26°c
3 hrs - top 43°c - bottom 30°c
4 hrs - top 47°c - bottom 31 °c
5 hrs - top 52°c - bottom 31°c
I worked on the basis that 13 litres should be enough for a shower, and that 40°c seems to be the general figure for a good shower temperature. Based on that, I think it is easily possible to heat water for a shower daily, either from solar generated electricity, or with a 12v power supply on hookup.
If the weather is good, then these times should be reduced.
The usual provisos exist: it could over heat the water and scald you. The power supply could catch fire. if you do it on solar and the sun goes in then it could kill your leisure battery without an under voltage circuit.
Anyway, I've convinced my wife that it is do-able, so just need the campsites to open now !
Pete