Senior Member
VCDS User
VIP Member
T6 Guru
Used rear threshold trim for a Caravelle In good condition. I was going to use it on my conversion to match the raised floor but although the height was good it's narrower than a Kombi trim to match a Caravelle interior.
Paid £85 plus post on eBay, £70 here plus postage or can maybe arrange collection around Highlands or Central Belt.
It will need new pin clips fitted but is good otherwise.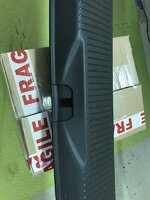 Last edited: