Vw transporter custom made stainless steel door catch striker covers. Simply clean down the contact area with an evaporative cleaning agent and stick into position with the 3m tape provided on the rear. These wfit the two front cab doors to hide the ugly torx headed bolts.
3 color options available
Silver polished chrome ( £8 2pc set)
Black polished chrome (£8 2pc set)
Carbon effect (£10 2pc set)
Free delivery within UK.
Other items available on FB at CDCVAG.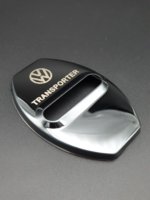 How to buy....
Please make payment to...
kylehartley45@hotmail.com
U must include...
1. Full name and address
2. Color and quantity needed.
3. Type required. (T5 or T6?)
4. Payments made via family/friends. If u would like to pay via goods/services please add 5% to the advertised price shown.
Thanks everyone for your support.
Last edited: