Just removed today and replaced by a set of 18 inch Sportline 2's

These factory Devonports are only 2 months old with just over 500 miles use and as new .

Looking to sell at around £500 ovno

Come complete with the centre 'VW Badge five leg centre sections' which were removed to thoroughly clean the wheels (and of course access the bolts for removal from hubs) !

Based in Cornwall so Courier facilities may be required - happy to wrap and box securely (certainly more securely than the boxing the Sportlines arrived in !!)

PM me (Jim) if interested or call me on 07920 262103.
.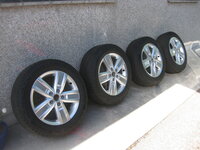 Last edited: