I have been driving VW Transporters over many years, and in that time, have covered many enjoyable miles.
Back in September '16, I picked up a new T6 SWB 150PS T32 Euro 6 Kombi in Indium Grey.
It had been quite a wait for the new Kombi, as there were factory build delays on vehicles fitted with swivel seats, but was more than happy when it finally arrived.
I needed to put some serious thought into how I wanted to convert the Kombi.
I wanted to be able to use it as a Camper, but also to be able to carry passengers, and to be able to have an empty van if I chose… I didn't want to lose the practicality of the Kombi!
I did not want to be "stuck" with the standard camper layout, with units down the side and a ¾-width R&R bed. These layouts always look great, but for me, in use, are not so practical!
The beds are to narrow, and I am not so keen on cooking inside the van.
(It's not just the cooking smells that linger in the van, but things like cooking oil can splatter up the walls / windows etc.)
VW Transporters are like "Man Caves" to me, and I wanted my particular cave, to suit my lifestyle.
I wanted a conversion that was removable. It needed to have a full-width, full-length bed, but also have a full-blown kitchen unit!
I would have looked at doing the conversion work myself, but am very limited with time, due to work commitments.
There are several well-known and established VW Converters in my area (Vanworx, Uberbus etc) and plenty of other options, but when I looked into Slidepods, I was excited, as the Slidepods Kombi Pod offered me everything that I was looking for! (Removable Kitchen & Bed etc)
Slidepods as a Company have a very good reputation, and the quality of their work looked outstanding! I loved the look of their soundproofing / lining package. (The split panels look far better than on any other lining package that I have seen, and the one-piece roof looks amazing)
So, after a bit more researching, and a few chats with Jonny, I decided to go for a Soundproofing / Lining package with LED downlighters, a Kombi Slidepod with all the options (Table, Shower, Mattress Toppers, 40L Water Tank etc) a Blam Audio upgrade to front /rear using Blam RX /RS Components all powered by a Blam 4x80W Class D Amplifier.
I also ordered a Webasto 41Litre TravelBox. A Digital Voltmeter for main and leisure battery's, and USB + 12v Power Outlets in the front seat bases, with a battery cut-off circuit fitted next to the leisure battery.
My Slidepods order was booked just after Christmas, and this gave me a build slot at the end of February.
The entire build process was very professional from start to finish. As soon as my van arrived at the workshops, Jonny filled in the booking-in form, which would detail any marks or scuffs on the vehicle (there were none!) and took photos with a Canon DSLR.
The Kombi was to be in the workshops for a full week, and Jonny kept me updated throughout the entire build process.
There was an unforeseen issue however where a faulty loom for the Blam Amp, had been supplied. This was in no way Slidepods fault, but it did mean that I would have to return to the workshops for the Amplifier to be finished at a later date.
Jonny was also looking into a better way of fixing the one-piece roof headlining, and so this also needed doing on my return visit.
With Slidepods being so very popular, I wasn't able to return until the first week of April, to have the Amp and Roof finished-off.
Now, the Amplifier is working, coupled with the Blam Speakers, all I can say is Wow!
To say powerful would be an understatement! I wanted the Amp to help with the "clarity" of the sound produced, better Bass response etc. It has certainly done this… on Steroids!
Lovely sound, and so very, very, loud!
At the time of writing this review, Slidepods did not have VCDS software, and so could not enable to rear fader for me, but once they have the software, they have offered to do it FOC.
I am totally over the Moon, with the work Slidepods has done, and would not hesitate to recommend them to anyone else!
Would I use Slidepods again? Yes, without a doubt!
The whole Team are friendly, knowledgeable, and professional, and do fantastic work.
Kombi Slidepod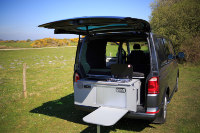 Full Size Bed
One piece roof headlining panel
Digital Voltmeter / USB / 12V Power Outlets
Battery Cut-off circuit
Rear Speakers