Hello all,
I own a 2016 EU5 Trendline with cruise control on the stalk - I would like to fit a MFSW. I think I'm almost there but just wanted to confirm.
Original wheel:
Steering wheel:
From looking at ETKA, there are 3 options, with each in black or grey? Can anyone confirm the correct part number?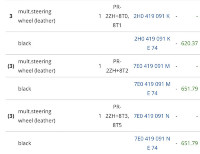 Buttons for wheel:
EU5 Engine ==> always Cruise on Stalk
EU6 Engine ==> always Cruise in MFSW
There are two different button options, as I have an EU5 and cruise on the stalk I'll need option 1?
Option 1 (audio controls on left side of wheel):
Option 2 ( cruise controls on left side of wheel):