Funds just don't support the desires!!!
Moderator
VIP Member
T6 Legend
The following is based upon facts, I am deliberately not pointing fingers to prevent libel and other claims.
In April 2018 I took my van to Van Doc Ltd (see associated thread
Van Doc Ltd - - - - Vandoc Conversions Ltd
) for a HiLo roof to be installed. This was at the time when they were having issues from a customer booking perspective, which they blamed on an employee who made all of the bookings. Originally, I had asked for them to quote me for both a HiLo (Sport) roof and new leisure electrics. I had previously had some leisure electrics installed by another company (Rising Sun Campers), however I was not happy with them as I found that they had not even earthed the 240V consumer unit which was part of the EHU system. As a result of not wanting to trust this install due to having my family sleeping in the van, I decided to rip it all out and get it replaced.
Why do I mention this? It'll all become clear in a while.
As a result of Van Doc Ltd messing me about with dates and quotes I decided to go elsewhere (to an auto electrician) to get my desired level of leisure electrics installed. So when I delivered it to Van Doc Ltd, there was a pukka electrical set up in the van, and this I can prove due to dates on invoices.
Three weeks after dropping my van off at Van Doc Ltd, I was picking it up. All looked good in the unit, I was happy. However, by the time I had driven it the 45 minutes home, I was going loopy due to the high pitched whistling and creaking coming from the newly installed roof. I couldn't get it straight back to them due to work commitments, so returned about a week later. We took it for a test drive, and they ended up putting some additional foam tape around the roof, which cured the problem. However, by the time I got it home it was creaking again. Called them up and got it booked in for them to have it for a further week to look at what was occurring. Can't honestly remember what they did, but it came back better, it certainly had another new windscreen rubber wind deflector fitted because the previous one had already peeled off. Along with other issues (such as slider board falling out due to rails not being installed perpendicularly) the van went back to them a total of 4 times.
So, lets fast forward to February 2019. When washing the van I put the roof up (it hadn't been raised since Oktoberfest 2018), only to find a hole at the top and bottom of the canvas in the corner on the off-side. These holes were directly over one another and showed evidence of pressure/ friction rubbing.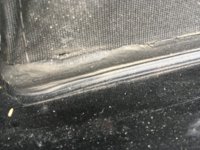 On the 18th February 2019 I contacted HiLo by email, setting out that I had a number of issues with my Sport roof, and that having taken it back to the installer several times already, I was not satisfied with the rectification works that had occurred, and that the install was only 9 months old. Michael Gildert as the then Operations Manager agreed that I needed to bring the van into their manufacturing premises in Preston, and a date was agreed for the 12th August 2019.
Two weeks prior to me taking the van up, I managed to get hold of a chap called Lee, since Michael had left the company, to discuss the final details. Despite HiLo knowing since February that I was bringing the van in and would be travelling a very long distance to do so, their loan car had not been booked out to me. I discussed this with Lee from whom I got verbal agreement that HiLo would cover my travel costs of having to use public transport.
During that preceding two weeks we went up to Scotland and were camping in the van. Predictably the weather was foul, lots of rain! Well that is when it happened – my van turned into a bathtub like so many other HiLo owners have reported. Rain water was cascading through the van soaking everything – the poptop bed that the kids were sleeping on, and the kombi bed that the wife and I were on. It turned into a very miserable and wet time in the van.
I arrived at HiLo's unit in Preston very early on the morning on 12 August 2019, booked the van in with a lad called Jake. We went over all of the faults including the constant creaking, leaking, and holes in the fabric. He assured me they would sort it out and return it perfect. He described how they had had a Van Doc Ltd install back into them only a week previous so knew exactly where to start looking in terms of the water leak. He also said that just by eye, he could tell that the front of the frame was sitting too high on the original roof line. He gave me his phone number and I left for the train station.
They had the van for ten days. As I wanted information and to know what they were doing and whether they could sort it out, I was constantly texting Jake to get Lee to call me so I could get that picture.
Sorry this is taking a while, but the background is important. Now for where all of my pain, stress and anguish commenced.
On the 22nd August I returned to get my van. They pulled it out of one of the units for me to inspect. I put the roof up and had a good walk around, all seemed to be alright. They told me that Van Doc Ltd had made a terrible job of installation; in that the front of the frame was too high which is why the canvas had rubbed, and that they were supposed to flat all of the paint off the frame when they bond it down so that the silicone/ Sikaflex keys properly. I thanked them and me and the kids got in (it was school summer holidays, so had had to take the kids up with me as the wife was at work). In order to leave the site I had to spin the van round which involved needing to engage reverse. This is when things started to go wrong; the reversing camera feed wouldn't come up on the screen, and it said "park pilot not currently available". "Odd" I thought. So I got out, opened and shut the tailgate just in case, and got back into the drivers seat. Stuck it in reverse, same outcome. So I did a hard reset on the head unit. Tried again, same outcome, the screen was showing the outline picture of the van, but no video feed. I asked the kids to get out and stand in front and behind, to test the parking sensors – they worked perfectly.
I went back into the office and said that I needed to see Jake (Lee wasn't there again) saying that my reversing camera wasn't working. I went back out to the van and looked on the phone and pulled up the fuse board diagrams from the forum. I identified the fuse for the camera, located it in the centre console board, and found it to be blown. I showed Jake, and he said he'd go and get me a replacement. He returned, gave it to me, I put it in and it instantly blew. I realised the ignition was on, so turned it off, thinking that maybe the surge had blown it. Put another one in, started the van, engaged reverse, still no camera. Turned the engine off, and put the keys on the driver's seat whilst I went round to the passenger side to get easiest access to the fuse board. Checked the fuse – blown again. By this time other workers were coming out and started pouring over my van, including unscrewing the pelmet covers. At this point I was told to take one of their cars, "disappear for an hour" and they'd get to the bottom of it.
Due to the time of the day, circa 14:00 hours, I took the kids to get some food. An hour and a half later I get a call from Jake asking me if it was an "OEM camera and an OEM head unit", which I explained that it was. He said they couldn't find the fault, and that they had measured voltages at the camera and it was getting power, so had to be a fault with the camera. I said that I was on my way back and that I would therefore have to go and get it fixed. I returned to the HiLo premises at around 16:00 to find that the van was back in the same unit that I had previously seen it drive out from. Jake and another person were stood in front of the open bonnet, whilst a couple of other people were stood by the open drivers door, it appeared that they were using an OBD tool (I believe that one of the people may have been from the unit nearby that do motor mechanic work). I told them to step away from my vehicle and that I would have to get it inspected by someone. I climbed in to reverse it out so that we could leave. I turned the key, the engine fired for around 1.5 seconds then died, this was strange as it had never done that before. I turned the ignition off and then back on, that is when I identified that there were no ignition lights on the dashboard (albeit the MFD was illuminated). I tried to restart, the starter motor was engaging and the engine turning over, but would not fire.
Jake and his colleague said that it had been working fine and they had only just turned it off. They put it on charge thinking it could be a flat battery. Because of the symptoms I was seeing I did not believe this to be the case, and fortunately having Green Flag breakdown cover I instantly got on the app to summon them for assistance. In the meantime I pushed the van out of the unit with my son sat in the drivers seat working the steering wheel, so that if the recovery technician arrived after HiLo had shut up shop for the night, they'd be able to get around my vehicle. It was at this time that I noticed that drivers window was open, I tried to shut it, only to find that this electrical circuit was also dead.
Whilst waiting for the breakdown service, the battery was put back on charge, only for the charger to turn itself off after about 5 minutes, with a member of staff saying "oh it must be full because it's just clicked out for a full battery". Another member of staff got their own OBD tool out of their car, and started trying to read the faults that it was identifying with the vans systems. There were a few, but that is hardly surprising when there was no power to the ignition.
Green Flag arrived at about 17:30 and started going over the van checking power distribution and fuse integrity. I explained about the blown fuse in SC18 (reverse camera), and that HiLo had had my van for a further 90 minutes without me being there so I could not declare at all what they had actually done in this time. The technician worked on the van for 60 minutes and then stated he could not find the problem and that I would need recovering, which he would then organise. During this time HiLo had closed up their premises for the night. Jake and another chap remained. As the other chap got into his Land Rover Discovery, I stopped him before he drove off. Despite having seen him speaking to other members of staff in the background whilst all of this was going on, he had not come over to speak to me, which I thought very odd since he was in a suit, I asked who he was because he looked to me as if he was in a managerial position. He told me that he was Matt Adams and was the Operations Manager. I said I thought it was rather strange that as a manager he didn't think it appropriate to come and speak to me, he said he wasn't a technical person and therefore thought it better to stay well out of the way. He told me they'd make sure that my van got sorted. As I had had enough by now, and just wanted everyone gone, I told Matt and Jake to leave us alone as we'd be in their yard awaiting a recovery lorry for a couple of hours yet. At 20:00 the (first) recovery truck arrived, loaded me and the kids up, and started us on our 160 mile piggy back down the country. This was when the driver told us that he was dropping us off at the Lymm interchange services, and that another company would then pick us up and carry us on our way. Second lorry arrived at 21:45, and fortunately the driver told us that he would be taking us all the way home, the only problem being that he'd have to take a 45 minute drivers break before getting us back. 'Could this day get any worse'?
As irony would have it, the driver ran out of time about 20 minutes from my house, so we had to pull over at the Warwick Services on the M40. Fortunately, I'd been keeping the wife updated on our location, so she pulled into the Services right behind us and took the kids (it was now gone midnight) to get them home and to bed. The van and I finally arrived home at 01:45. My van had to be left in the street with the drivers window down, with the aperture covered only by stickyback plastic to keep the weather and criminals out, because the recovery driver is only allowed to put down into the street. Fortunately the central locking worked, and I put my thermal windscreen cover on to hide the downed drivers window. I have only realised in the past week that my insurance is actually null and void if my vehicle is parked anywhere other than on my drive after 22:00 (unless I am out in it – i.e. against the kerb in the street outside my house = no insurance).
By 15:10 on Friday 23rd I had heard nothing from HiLo so I called the office and asked to speak to Matt. Eventually he came on the line and was very different in his demeanour than the day before. I explained how I thought it was not very good that I had not received so much as a welfare phone call/ email/ sms to see whether my children and I had made it home safely. As far as I am concerned this is not admitting liability, that is caring about your customers, I got no response to this. Because of the massive difference in attitude I asked what HiLo were going to do about my vehicle, I got a very non-committal, lack of empathy response saying I have to get an "engineers report" and send it to HiLo for the Directors to consider. I asked who my escalation contact was, I was told I would have to put it to Kerri on the general email! Please note the words used above, "an engineers report", again I have this written in an email which I have as evidence.
Over the following days I called lots of auto-electricians, none of them were willing to work on my van. Two said that I would have to get it to them and they were packed out for over two weeks, one even said that he would not touch a T6 due to having no knowledge on the systems because they were so different to a T5. So I turned to the auto electrician who installed my leisure electrics, even though he is about 45-60 minutes from me. He said he'd come and take a look but it would be a week or so.