Morning, I've fitted some Golf R heated seats in my T6 , but for a complete job would really like the heated elements to work, even better if it could look oem.
This is the type of heater panel i have now, but without the rear window button as its a panel van.
This is the type of panel i would hope to use
and the rear of each panel appears to be the same connection socket wise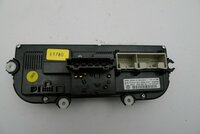 So with that in mind would it be unreasonable to think i could purchase and fit the panel with heated seat buttons, and then have made and fit a wiring loom from the golf seats heated element sockets to where ever it is they go on a van with heated seats?
Has anyone fitted oem T6 heated seats and had to do the same sort of thing?
Any help or advice appreciated
Thanks