Hi All,
I have a metal powder coated panel which bolts directly onto the California roof for a solar panel (see photo). Ideal if you don't want to stick a panel directly to the roof.
I purchased the panel from a company in Switzerland where it wasn't clear this wasn't the right product for my Kombi, hence selling and trying to recoup some costs. An expensive mistake to make!
It is new and does not include the solar panel or fixings.
PM me if interested.
Thanks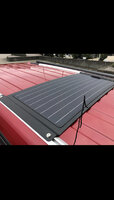 Last edited by a moderator: