Senior Member
VIP Member
T6 Legend
Breaking this out into a separate thread as I was polluting other non/vaguely related threads, and with thanks to
@foggy3061
and
@Grim Reaper
for their contributions on thse threads.
The gist of it is that I can only get access to one side at a time at the back due to being in a garage, and the ARB stops the hub dropping low enough to free the spring. Jacking up on the drive isn't an option as it's gravel and will sink.
So home from work tonight and straight out before eating, and immediate success! Following
@foggy3061
's suggestion I parked the van on the drive and undid the 2 bolts that clamp the ARB to the wishbone underneath each side. The ARB then simply drops down out of the way. So then I wedged it back up while I reversed the van into the garage where I could jack one rear corner up and remove the wheel. Folded the ARB back down and placed a second jack below the hub while I removed the lower shock bolt. Once the shock was detached I lowered the hub down and to my surprise and joy the spring just fell out and rolled under the van. Way easier than I thought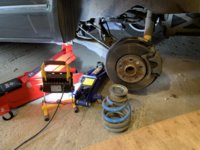 The only tiny downside is that as it fell out quicker than I expected, I'm not sure which way up the adjuster goes. These two pictures show both ends so does the wider metal bit go at the top, or the narrower end with the plastic hood?